FAQ
When does the submission period start?
You can upload your story from April 5th 2019 onwards.
When does the submission period end?
All submissions must be received by August 9th, 2019.
Who can participate in the COME IN Award?
The competition is open to all companies, NGOs and public authorities that support refugees' and/or migrants' employment. Owners or staff members of those organisations can apply for the award. The organisations must be registered in one of the following countries: 28 Member States of the European Union, Iceland, Liechtenstein, Norway, Switzerland, Turkey.
How do you submit?
Please use the submission sheet on our website. A preview sheet is available here.
It needs only five steps to participate:
Read all information on the website and the FAQs.
Fill in the form (you can get a preview of the submission sheet here).
If applicable, upload files of your project.
Submit.
Maybe win?
What kind of projects/ approaches can you submit?
We are looking for innovative initiatives or ideas to promote workforce integration of refugees and migrants in European companies. Especially we are looking for projects and approaches that cover one or more of the three COME IN fields:
Innovative approach for recruiting employees with migration background
Creating or changing specific support structures within your organisation for employees with migration background
Individual approach for assessing and/or developing your employees' competences on the job
You can enter the contest with implemented, existing and planned approaches/ projects. Please describe your project/ approach with its (foreseen) impact on your company, and explain the sustainability and why it is innovative.
What do you have to prepare for taking part in the COME IN Award?
Your contribution should deal with innovative ways to integrate refugees and migrants in a workplace and/or to create a welcoming culture in a company.
Make sure you submit the following materials:
completed submission sheet in English
if applicable, attachments, such as photos, films, charts, reports etc.
In what languages can you submit?
The submission form will be only in English, but in direct contact with the partners, applications in partner languages can be accepted. Please consider that the conference will be held in English.
What conditions do you accept by submitting a project?
By submitting a project, you accept that COME IN is entitled to publish the submitted projects on the internet or in other media also in modified form, and that your data can be electronically processed and published.
All submissions must be in line with European copyright laws. Short quotes may be used if the source is clearly listed. Images, film, sound and other multimedia sources can be used if they were produced by you, if the author has given his/her explicit consent, or if they are freely accessible sources.
Your submissions shall contain no statements, facts, information or quotes which are hurtful to or disparaging of individuals or groups. Your submissions shall contain no statements, facts, information or quotes on the basis of which people can be persecuted due to the colour of their skin, their opinions, nationality, gender, profession or conviction. Your submissions shall not encourage others to commit crimes or violate laws.
What can you win at the COME IN competition?
You can win: a two-day trip to Mechelen, Belgium – all travel, accommodation and subsistence costs for one person per winning project will be covered by the COME IN project.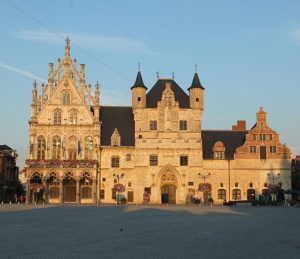 The winning includes:
get-together with European partners and award winners on September 24th, 2019;
presentation of award winning projects during the COME IN conference on September 24th with an international audience;
participation in the COME IN conference incl. insights in the COME IN approach for promoting and validating intercultural competences on September 24th, 2019;
presentation of the award winners on the COME IN website and in the COME IN newsletter that will be published in autumn 2019.
The prize can neither be consumed at a later point in time nor redeemed in cash.
Who determines the winners?
Your submission will be evaluated by an independent jury according to the following criteria. Your project:
works in an innovative and novel fashion;
focuses on promoting a welcoming culture in European organisations;
reflects on/considers ways of measuring and documenting learner's development in relation to integration competences.
No appeal is admissible against the jury's decision.
Who will be invited to Mechelen?
The person who submitted the application for their organisation will be invited to Mechelen.
How do you know you've won?
We will get in touch with you in end of August 2019.
Who or what is COME IN
COME IN – Competences in Enterprises on Integration – is a two-year-project co-funded by the Erasmus+ programme of the European Union. Its main objective is to support successful labour market inclusion of refugees and migrants through enhancing employers' competences and willingness to hire and integrate them to the workplace.
Who are the organisers of the competition?
The COME IN Award is organised by the project partnership of COME IN consisting of:
Landkreis Kassel, Kassel, Germany
BUPNET, Göttingen, Germany
CATRO, Sofia, Bulgaria
CESIE , Palermo, Italy
die Berater, Vienna, Austria
four elements, Athens, Greece
Trendhuis, Mechelen, Belgium